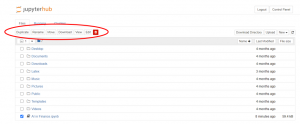 Select a file/folder by clicking on the checkbox on the left.
Relevant options will appear at the top.
Click on the 'Rename' button.
Write a new name in the dialogue box.
Click the 'Rename' button to complete the action.
Currently open file can be renamed by clicking on the file name in the title bar and following steps 4 and 5 from above.