Converting a Standard Meeting Room to Accommodate Hybrid or Remote Meetings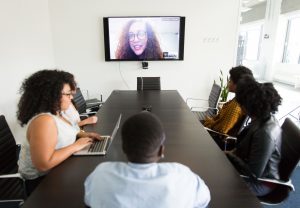 A hybrid meeting is one in which some participants are gathered together in person while other participants are remote, dispersed across different locations, typically using video and/or audio to connect online.
Any basic meeting room with a good Internet connection can accommodate a basic hybrid meeting with a laptop or even just a phone. However, we do know that some departments may be interested in investing in more specialized equipment for a better meeting experience.
The types of equipment required will be determined by both the size of your meeting room, and available budget. However, at a minimum, the following types of items may be needed:
Internet connection (ideally a wired connection as opposed to using wifi)
Dedicated computer or appropriate ports for attaching a laptop
(A computer that can run Teams and Zoom)
A dedicated camera (as opposed to one built into a computer)
Data Projectors (digital projection) and or TV monitors
Sound systems, including proper microphones and echo cancelation
Control system (a device that allows for items like multiple inputs, lighting control, etc.)
Room booking system (so you avoid scheduling conflicts)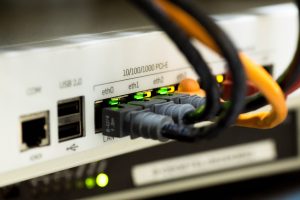 In some cases, a department can create one or more mobile AV carts that can be shared amongst different meeting rooms, where the computer and sound system plugs in to a permanent screen, or a mobile unit with its own screen.
These AV Guidelines were developed in the Fall of 2020 for new construction, and may be of use for those converting existing meeting rooms (PDF download).
While not formally part of a meeting room set-up, we also encourage in-person attendees to bring their own laptops to meetings so the can connect to the virtual meeting room (Teams or Zoom) in order to participate in any online chatting (but remember to always mute your microphone and speakers to avoid feedback in the room).
Because different rooms have different needs (different sizes, different existing equipment), we can't give you a one-size-fits-all solution here. However, we can point you to professional resources that can help you spec out equipment and set-up.
First and foremost, almost every academic division has a dedicated IT department, often with AV professionals. So, the first place to call is your IT department, because they may have already started meeting room configurations. For example, we recommend using wired Internet connections, and your local IT department can assist with those.
You can find your local contact information here (please scroll down on the page to find divisional and large departmental IT units).
It is particularly important to work with your local IT department, because after you've converted your room, you will, inevitably, need support. For example, if a piece of equipment fails, or there is an Internet outage, etc.
After consulting with your local IT department, if you are interested in a more robust, formal meeting room set-up, the University has a set of pre-approved suppliers for AV projects. The usual recommendation is to ask more than one of these pre-approved suppliers for a quote. For example, if you envision having multiple sources during a meeting, whiteboards, multiple screens, lighting controls, etc., then working with an AV company would be the way to go.
After consulting with your local IT department, if you are interested in more of a do-it-yourself approach to setting up your meeting room, the University has a set of pre-approved suppliers for computer and peripheral equipment where you can buy what you need.
As stated above, these AV Guidelines were developed in the Fall of 2020 for new construction, and may be of use when requesting quotes from AV companies (PDF download).
Finally, we should note that sometimes "your" meeting room may actually also be a bookable "classroom." If that's the case, the first stop on your journey of converting a room for hybrid meetings would be the Learning Space Management team (on the St. George campus), or the IITS departments at UTM and UTSC. They may already have plans for your room, or, at the very least, make recommendations:
Learning Space Management (St. George): https://lsm.utoronto.ca
UTM IITS: https://www.utm.utoronto.ca/iits/
UTSC IITS: https://www.utsc.utoronto.ca/iits/
As an aside, if you are looking for a room booking system, please note that LSM offers a free system called RRSLite that any department can use to manage their own space.
Other Helpful Links
DLI's Best Practices for Facilitating Hybrid Meetings
Virtual Meeting Services on the St. George Campus
UTM's Remote Work Information Technology Guide