_________________
THANK YOU FOR VISITING THE ACT WEBSITE.
FOR THE LATEST COVID-RELATED NEWS, PLEASE VISIT:
The University of Toronto's Main COVID-related Website:
https://www.utoronto.ca/message-from-the-university-regarding-the-coronavirus
The Centre for Teaching Support & Innovation's Academic Continuity Website:
https://teaching.utoronto.ca/
_________________
Click her for more information on institutionally supported
video-conferencing, video-meeting, and webinar solutions.
Read the ACT Director's Blog
for the Latest ACT News
Academic & Collaborative Technology (ACT) is a partnership between the Centre for Teaching Support & Innovation and Information + Technology Services (Office of the CIO) at the University of Toronto. ACT provides strategic and tactical leadership in the development and implementation of information technology services that support the academic mission for the university as a whole. ACT works with instructors, academic administrators, librarians, students, and professional staff (including teaching support units, instructional technologists and IT staff) to advance the University's academic mission and in particular, its commitment to teaching.
ACT is responsible for seven enterprise (university-wide) service areas:
Academic Toolbox (Technologies for Teaching & Learning)
Content Management and Website-hosting Services
Video-Mediated Communications (including video-conferencing and webinar solutions)
Client-facing Email and Related Productivity Solutions
Course Evaluation Technologies
Pre-incubator Spaces for Mobile Development and Classroom Technologies
Open U Toronto Support
Some ACT Statistics
Statistics for the past academic year (Sept. 14 – May 15):
88,346 Active Portal (LMS) Users this year
12,751 Active Portal (LMS) Courses this year
1708 TechSmith (Camtasia) Relay Recordings this year
180 Users who have made a TechSmith (Camtasia) Relay Recording this year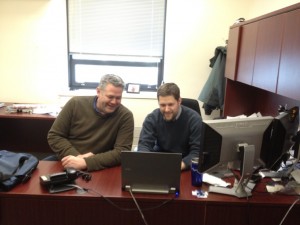 Overall stats (3+ years):
98,436 Unique Portal (LMS) Mobile Users
270,000 Student Views of UTL's Portal (LMS) Library Resources Page
652 Echo360 Uploaders (creators sharing video content)
19,404 Active Students on Echo360
434 TechSmith (Camtasia) Relay Users
28,981 Unique Collaborate Webinar attendees
7,221 Collaborate Virtual Rooms Used
1,240 Faculty/Staff MyMedia (Video Hosting/Streaming) Accounts
3,416 Student MyMedia (Video Hosting/Streaming) Accounts
1,132 Faculty FADIS (Image Hosting) Accounts
17,703 Student FADIS (Image Hosting) Accounts
198 Faculty Members have an iClicker Base Station (which can then be used for any number of courses)
Where we sit with respect to the EDUCAUSE Core Data Survey:
Overall Level of Educational Technology Services and Support available at UofT: 100% of listed services
Specific Online Learning Services available at UofT: 100% of listed services
Access to Specific Types of System and Technologies: 92% (13/14)
The State of E-Learning: 88% (23/26)
Classroom Technologies: 81%  (13/16)
Student Success Technologies: 50% (16/32)