Skip to content
REDCap Project Study Guide
Introduction to REDCap Project Study Guide
The REDCap Project Study Guide guide is intended for University of Toronto affiliated research and administrative staff who use REDCap to create research projects.
Prerequisites
Basic keyboarding and familiarity with desktop computer and Web applications.
A REDCap user account.
Important: To get started, you must request access and activate your REDCap account. For detailed instructions, refer to the University of Toronto REDCap Start-Up Guide.
After your account is activated, you can access the REDCap project instance at https://redcap.utoronto.ca.
Terms
| | |
| --- | --- |
| Term | Definition |
| Arms | A project-specific group of events and data collection instruments. Arms are frequently used as a design technique for distinguishing one series of events (i.e. Treatment Arm= Baseline, Double Blind, Follow-up) from another. There may be one or more arms per project. Each arm contains as many events (often, taking the form of 'visits') as needed. |
| Branching logic | Also called skip logic or conditional branching, this feature determines which question or page a respondent (or data entry person) sees next, based on the answer to the current question. It creates a custom path through a survey or data-collection instrument that varies based on the response option that is provided. |
| Case Report Form (CRF) | Collects and tracks data required by the protocol. CRFs are also referred to as Data Collection Instruments or Data Entry Screens. |
| Data Dictionary | A specially formatted .csv file/spreadsheet that can be used to construct your project fields. It contains metadata, a class of data that provides a description of the data in question. Examples of opportunities to use metadata in REDCap are: field types, field labels, validations, and form names. |
| Event | Enables the use of data collection fields multiple times for a specific project record. It is often used when collecting longitudinal data. An event may be a temporal occurrence in the course of a project, such as a participant visit or a task to be performed. |
| Field | Represents a unique item of data to be collected and analyzed. |
| Instance | Installation of the REDCap application. The URL of the University's instance is https://redcap.utoronto.ca. |
| Instrument | A data entry form or a survey page that can be used to collect data from participants. |
| Project | A web-page used for data entry that is comprised of data collection instrument(s). REDCap enables users to create their own projects and assign other REDCap users to their project(s). |
| Record | A set of information for a unique participant or subject. Each record is composed of multiple data items, which can be collected across multiple forms (instruments) per record (row). |
About REDCap Projects
Any University of Toronto researcher with a REDCap user account can create or copy projects.
The Research Life Cycle
During a research project's life cycle, you perform the following data-management activities. You perform the highlighted activities within the REDCap project.

Project Life Cycle Workflow
Draft protocol (for studies that require REB approval) is used in Development status. Build and test a project with test data only (no real data).
Final protocol (for studies that require REB approval) is used in Production status. Enter, review, and analyze real data only.
Protocol amendment (for studies that require REB approval) is used in Draft mode, for REDCap projects already in Production status. Update project setup and data activities can continue during the update.
Inactive (optional) status. View and analyze data. No data entry/update.
Archived mode. Project is closed. Data analysis finalized.
The following diagram illustrates the REDCap project lifecycle workflow: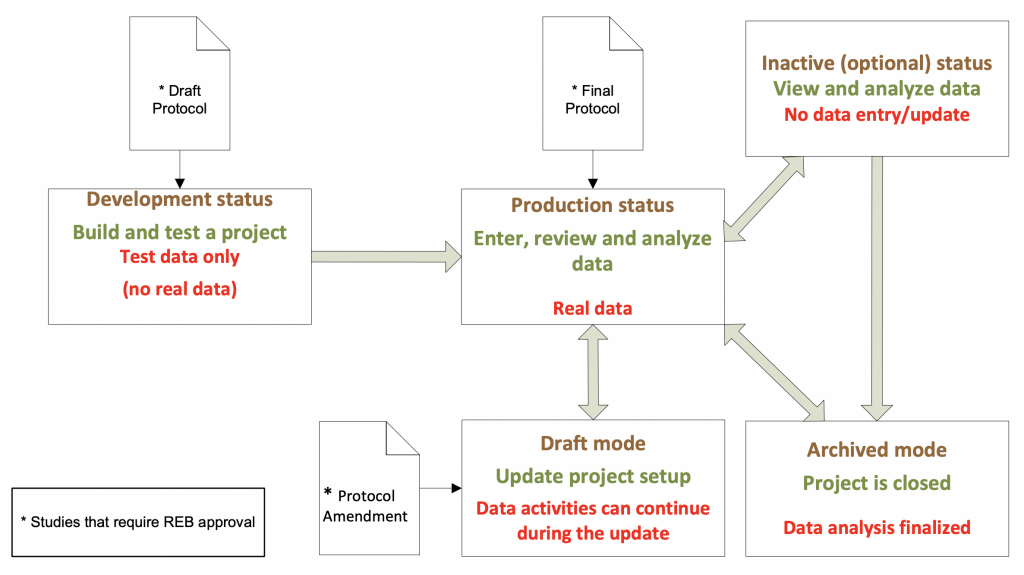 REDCap Project Statuses
There are two REDCap project statuses:
When you begin your REDCap project, you develop, test, and revise it in Development status.
When your REDCap project is fully developed and tested, you change your REDCap Project status from Development to Production.
| | |
| --- | --- |
| Project Status | Description |
| Development | You prototype your data-collection instruments and test them with training data. Changes are expected and frequent. You can change these instruments at any time. |
| Production | You have deployed your data-collection instruments, and the project is ready to collect real data. Your instruments are final, and you expect changes to be minimal or infrequent. Changes to your instruments are more difficult to implement in Production status, because changes may present a risk to previously collected data. Unless changes are very minor, they will likely require the approval of a REDCap Administrator before they are implemented. |
Creating a REDCap Project
Before creating a project:
Refer to the following companion documents for best practices:
To create a REDCap project:
Access the REDCap instance at https://redcap.utoronto.ca and log in.
Click the +New Project tab to create a new project.
Specify the following settings for your REDCap project:
| | |
| --- | --- |
| Settings | Details |
| Project title | The name of your project. |
| Purpose of this project | Select the purpose of the project.Tip: To create a sample project, select Practice/Just for fun. |
| Start project from scratch or begin with a template? | Decide whether to use a template for your project. You can select a template from the list. |
Click Create Project.
The project opens, displaying the Project Setup tab. This tab is a checklist of steps to build and test your project, and it is the home page during project development. You can complete the steps in any order, and not all steps are required. This tab also includes links to instructional videos for many of the steps. For links to and descriptions of instructional videos relevant to this tab, see REDCap Additional Resources
Note: Your project status is Development. This indicates that the project is being built and tested. Test your project thoroughly before proceeding.
Changing Your REDCap Project Status to Production
This section describes how to change the project status from Development to Production status. When this step is complete, you are ready to start collecting real study data.
Important: REDCap describes changing the project status as "Moving to Production."
Before changing your REDCap project status to Production status, consider whether you plan to make only minor, infrequent changes from this point forward. After moving to Production status, you can no longer make real-time project changes.
To change your REDCap project status to Production:
In the Project Setup tab, in the Move your project to production status section, click Move project to production. The Move Project to Production Status? dialog box opens.
Decide whether to delete all the data in this instance. Select one of the following options:

Keep ALL data saved so far
Delete ALL data, calendar events, documents uploaded for records/responses, survey responses (if applicable), and any logging events pertaining to data collection

If you selected Delete ALL data… in the previous step, a message box opens, confirming that you want to delete all your data.
Click YES, Move to Production Status. Project Setup tab confirms that your project status changes to Production. You are now ready to begin collecting real study data.
Post-Production Changes
To make changes to your project when it is in Production status, you must change its status to Draft Mode.
Warnings: Altering a project that has been changed to Production status can cause data loss.
Changes to any variables may affect programmed calculations and/or branching logic.
Changing a variable name will cause data loss!
You can no longer test fields for accurate branching logic or calculations!
To change your project to Draft Mode:
In the Project Setup tab, in the Design your data collection instruments section, click Online Designer. When the Online Designer tab opens, it prompts you to enter Draft Mode.
Make the desired changes to your project. For detailed instructions, refer to the REDCap instructional videos, linked to and described in REDCap Additional Resources. Note: You are responsible for reviewing and testing all fields before submitting changes.
To clearly understand the impact of the changes, click View detailed summary of all drafted changes. You can add or edit Events and Arms independently and view a detailed summary of your proposed changes, before submitting them for review.
REDCap automatically approves all your non-critical post-production changes.
When both of the following conditions occur, post-production changes require review and approval from the REDCap Administrator (redcap@utoronto.ca).
Changes affect data collection, for example: deleting fields, deleting multiple-choice options, changing the field type.
Data has been collected against the changed fields.
To delete events or arms while in production, please contact the REDCap Administrator (redcap@utoronto.ca).
Destructive changes to a project once it is in production will automatically create requests to the Redcap Administrators (via an email to the FogBugz ticketing system) identifying the requested change.
Changing the Project Status to Inactive Status or Archiving the Project
When your project is in Production Status and data has been collected, you can change the project status to inactive or you can archive your project. These features are accessed from the Other Functionality tab:
Inactive Status: Use this status when data collection is complete. This status disables most project functionality, while leaving collected data intact. You can return the project to Production status at any time. To change the project status to inactive, click Move to inactive status.
Archived Mode: Use this mode to close the project, and take it offline, it will no longer be displayed in your project list. To archive a project, click Archive the project.
Note: You can access an archived project only by clicking the Show Archived Projects button at the bottom of the My Projects page.
REDCap Additional Resources
Other University of Toronto REDCap Documents
Refer to the following companion documents to learn more about REDCap at the University of Toronto:
University of Toronto Resources
For training materials and presentations, please contact the REDCap administrator at redcap@utoronto.ca.
The REDCap Shared Library is a repository for REDCap data collection instruments and forms that can be downloaded and used by researchers at REDCap partner institutions. Curated instruments have been approved for inclusion by the REDCap Library Oversight Committee (REDLOC) after review for research relevance, accuracy in function and coding (see guidelines), and copyright issues.
This library is available at: https://projectredcap.org/resources/library/.
REDCap Video Resources
All REDCap instructional videos are available from https://projectredcap.org/resources/videos/.
Following are additional information about individual videos, and links to them.
Just Getting Started?
Explore these overviews of fundamental concepts and features:
Brief Overview: A quick summary of  REDCap  and  its  functions
Detailed Overview: It will serve as a starting point for learning about the basic concepts of REDCap, what REDCap projects are, how to create them, and how to use them.
Data Entry Overview: A focused exploration of basic data entry workflow. Suitable for training data entry staff.
Building a Project
Learn how to build and modify data collection instruments.
Introduction to Instrument Development: An introduction to the Online Designer and Data Dictionary methods of instrument development.
Online Designer: This online tool is the quickest and most intuitive method for making instrument modifications.
Data Dictionary: The Data Dictionary is your project structure in a downloadable spreadsheet file. The spreadsheet can be modified and uploaded into REDCap to make instrument modifications. For an example, see the csv companion file.
Project Field Types: An illustration of some popular field types.
Types of REDCap Projects
There are several types of REDCap projects to choose from as you begin thinking about building your own project. Each type of project has its advantages and disadvantages, and may fit the specific needs better of one type of project over another. Please review the different types below, and you may even view a live example of each project type in action or view a short video about it.
Types of Projects: This video describes two major decisions that must be made when building a REDCap project. It also briefly illustrates how these decisions affect which type of project is used.
Traditional Project (classic model with data entry forms): The traditional project is used for basic data collection. All data is entered directly in REDCap by users who log in. Multiple data collection instruments are often defined. This project type is suitable for most data collection needs. It can capture longitudinal data, including adverse event reporting or other collection that does not have a pre-defined schedule or end-point.
Single Survey Project: The Survey module allows a REDCap instrument to be completed by survey respondents who do not log in. Data can also still be entered by REDCap users (who do log in). This video explores all the major features of the survey module, including survey distribution. A single survey project has only one data collection instrument, which is used as a survey.
Longitudinal Project (multi-use data entry forms, abstract time-points): The Longitudinal module allows any data collection instrument(s) to be completed multiple times for each record. The same data may be captured repeatedly. The module uses an event grid to define clear time-points used for data collection. The longitudinal module is best suited to very structured studies which do NOT last indefinitely. Clinical trials frequently use this project type.
Longitudinal Project + Scheduling (multi-use data entry forms, defined time points): This project type uses two modules. The Longitudinal module allows any data collection instrument(s) to be completed multiple times for each record. The Scheduling module adds record-specific schedules onto a study calendar, using the longitudinal event grid. Schedules can be generated and modified. The longitudinal module is best suited to very structured studies which do NOT last indefinitely. So this project type is useful for large, multi-site clinical trials needing a quick and easy way to schedule patient visits.
Operations (use case for non-study/non-trial): REDCap can be used for almost any type of data collection. The most common uses are clinical research and trials. However, REDCap is also suitable for administrative and educational data, workflow tracking, quality improvement, biobanking, registries, and non-human research. This example explores a traditional project type being used to capture and track operational bookkeeping information.
https://redcap.vanderbilt.edu/consortium/videoplayer.php?video=operational_project02.mp4&title=Using%20REDCap%20for%20Operational%20Use%20and%20Non-clinical%20Data%20Collection
(2 minutes)
Basic Features and Modules
Applications Overview: A brief exploration of the most popular built-in tools.
The Calendar: This tool organizes your study by tracking upcoming milestones and events.
Scheduling Module: This is an optional feature in longitudinal projects. The tool generates record-specific schedules based on a series of events or time-points. Used with the calendar module, this tool greatly streamlines longitudinal data entry
Data Access Groups for multi-site projects: The Data Access Groups feature assigns users to groups. Any user in a Data Access Group may only access their group's records. Each group is blinded to all other data/records. Users not in a group can access all data across all groups. This feature is especially useful for multi-site projects because each data collection site must usually be restricted from viewing other sites' records.
https://redcap.vanderbilt.edu/consortium/videoplayer.php?video=data_access_groups02.mp4&title=Data%20Access%20Groups
(7 minutes)
Special Features within REDCap Projects
Every REDCap project can use special features, some of which can be enabled by normal users and some by REDCap administrators. Below is a listing of these features.
Defining Events in Longitudinal Projects: Defining events is a requirement of the Longitudinal module. That module allows any data collection instrument(s) to be completed multiple times for each record. The module uses an event grid to define the time-points used for data collection. This video illustrates how to define the time-points (also called events).
Designating Instruments for Events in Longitudinal Projects: Designating instruments is an optional step of the Longitudinal module. That module allows any data collection instrument(s) to be completed multiple times for each record. The module uses an event grid to define the time-points used for data collection. This video illustrates how to designate which instruments are completed at each time-point.
Repeatable instruments and events: In-depth overview of how to set up and utilize the Repeating Instruments and Repeating Events functionality in both classic and longitudinal projects.
REDCap Mobile App: The REDCap Mobile App is an app that can be downloaded onto a tablet or mobile device to allow REDCap data to be collected locally on that device without the need for an internet connection (either wifi or cellular signal). If a user downloads the app, they must explicitly be given mobile app privileges in a given REDCap project in order to set up the project on the app. Once a project has been set up on the app, data can be collected in an offline fashion and then later synced back to the REDCap server.
Locking Records: The locking feature freezes data. Users can still view existing data, but they cannot modify it unless they have the needed User Rights permissions. This video illustrates the basics of how instruments are locked. Refer to the built-in help resources and locking applications for more detailed instructions about locking management.
Data Resolution Workflow: This advanced tool enables a powerful data query management system.