Overview of the Process
New and third-party teaching tools extend the functionality of the University of Toronto's Academic Toolbox – Quercus and the O365 Collaborative Suite. They add new capabilities to the system, including access to external course content, additional grading or assignment capabilities, or news ways to interact with and between students.
New tools come out all the time and many instructors are interested in being able to use them within their courses, often as fully integrated tools within Quercus and the O365 Collaborative Suite. In order to integrate these new tools and alternate "apps" at UofT, the tools first need to go through a formal process.
Step One: Submitting an Idea
In order to properly assess a third-party program, requestors need to provide some initial information. During this step, the requestor will provide a brief description of the new tool, an overview of its academic value, and contact information for the vendor. Requesters can use the Submit an Idea tab above to initiate the process, however, it is strongly recommended that requesters first check with their divisional educational technology specialist listed here to discuss their idea – it is quite possible that an alternative tool already exists that supports the underlying pedagogical objective.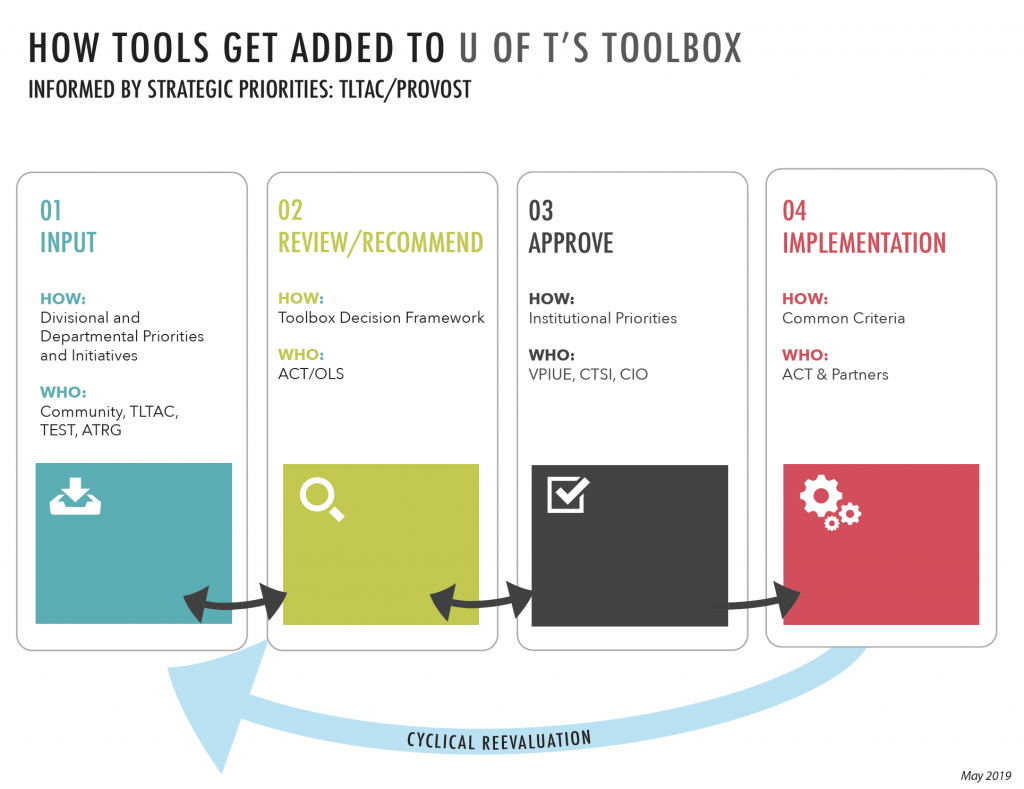 Step Two: Prioritizing the Queue
When ideas are received, they are published out to the community (see the View Ideas tab above). Ideas are discussed in a number of standing forums such as the Toolbox End-user Support Team (TEST), the Academic Technology Reference Group (ATRG), and the Teaching, Learning & Technology Advisory Committee (TLTAC). On a quarterly basis, using the Toolbox Decision Framework (see below), ideas are prioritized and recommendations are made to the Executive Steering Committee for Quercus and Academic Technology, who adjudicate and approve a set of projects for the coming quarter. Then the technical work begins.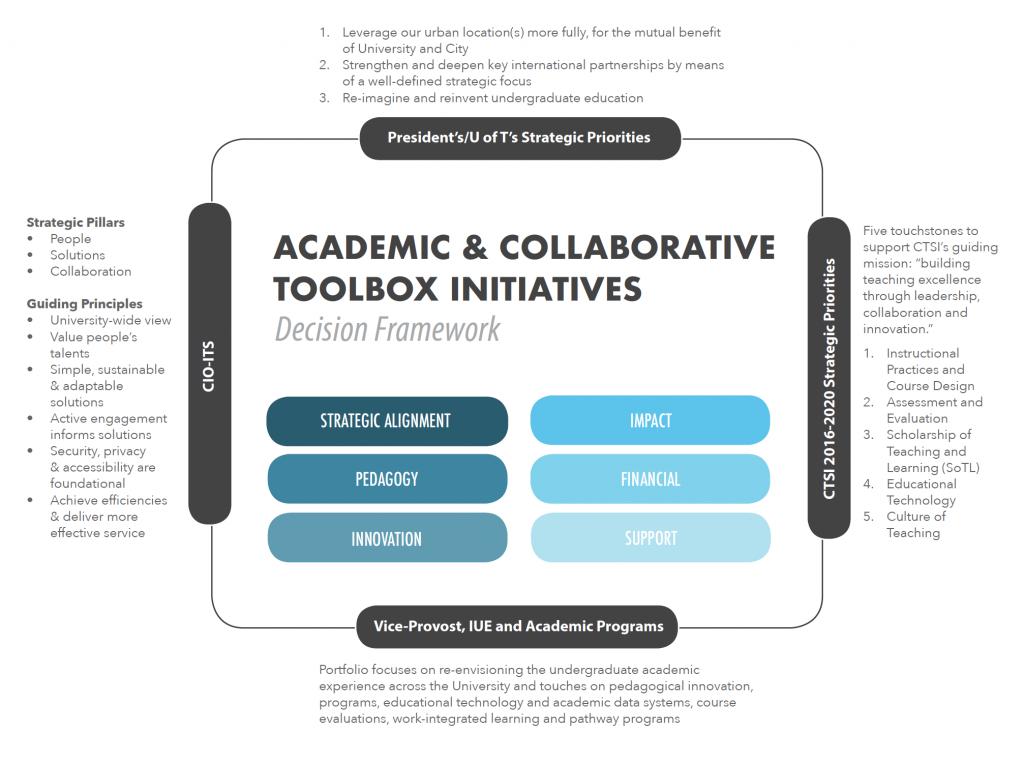 Step Three: Integration Project Stage
As exciting as it may be to use a new tool or access new content, it must be remembered that Quercus is an indispensable part of UofT's learning environment. As such, it must remain secure and stable: a poorly designed or tested external tool could compromise the system and lead to security breaches, system slowdowns, or even complete service interruptions. In order to make sure that Quercus functions as well as possible and maintains student confidentiality and security, the University of Toronto has developed a process that allows for testing and verifying any tool before it is allowed to be integrated with Quercus.
3.1 Security Review
During this step, ACT staff, working with Information Security specialists, will conduct an Information Risk & Risk Management (IRRM) audit with the makes of the tool. We ask them to identify their security procedures, privacy policy, and other factors that directly affect how student data is stored and transmitted. Failure to pass the Security review may result in the project not proceeding.
It is important to note that this step may take a long time to complete, depending on the ability and willingness of the tool maker to participate. It is not unheard of for toolmakers to decline to participate, often because they know there is an underlying problem with their technology. Nonetheless, even if we discover a problem, we are always happy to work with tool makers to help them improve their solutions.
3.2 Functionality Review
Concurrent with the IRRM, the toolmaker will be asked to provide information that describes the functional structure of their service or solution. This includes areas such as compliance with Accessibility requirements, support structures, and other areas dealing with end-user functionality.
3.3 Contract Review
This step consists of a review of the contract conditions, Terms of Service (TOS), End-User Licensing Agreements (EULA), and other conditions that the toolmaker wishes either the University and/or the instructor and/or student end users to be bound by. ACT staff work closely with Procurement Services to carry out this step and will engage other relevant UofT offices, as needed.
It is important to note that University of Toronto, as a public institution, is bound by very specific procurement rules, and solutions that exceed certain thresholds may have to go through additional procurement processes, such as Requests for Quotations.
3.4 Testing
Before a tool can be made available to the campus community, it will first be loaded on a test server. During this step, staff will thoroughly test the integration to be sure that it functions as described and does not present any security or reliability concerns.
3.5 Training and Support
Assuming that test results and contract terms are acceptable, the Centre for Teaching Support & Innovation, working with the tool maker, and with the University's professional educational technology community (TEST), will develop and post relevant support documentation for the tool, as well as design and deliver training as required.
3.6 Deployment
Finally, the tool, or an integrated link to the tool, will be loaded onto the production server and made available for use.
3.7 Usage Monitoring
Once the integration is in place, staff will monitor its usage levels to determine that it remains a viable tool. If the tool is no longer needed or used, it may be removed, after appropriate community consultation.
The University of Toronto retains the exclusive right to change any aspect of this process at its sole and absolute discretion, without prior notification.